Here you'll find a full roster of Foolscap's previous Guests of Honor.
2020 Guest of Honor
Cherie Priest.

Photo by Libby Bulloff
Cherie Priest is the author of nearly two dozen books and novellas, most recently modern horror project Brimstone and haunted house thriller The Family Plot as well as the hit young adult project I Am Princess X. But she is perhaps best known for the steampunk pulp adventures of the Clockwork Century, beginning with Boneshaker. She has been nominated for the Hugo Award and the Nebula Award, as well as the Locus award, which she won with Boneshaker.
Cherie has also written a number of urban fantasy titles, and composed several pieces (large and small) for George R. R. Martin's shared world universe, the Wild Cards. Her short stories and nonfiction articles have appeared in such fine publications as Weird Tales and Publishers Weekly and in numerous anthologies. Her books have been translated into nine languages in eleven countries.
2019 Guest of Honor
Nancy Cress.
Nancy Kress is the author of thirty-three books, including twenty-six novels, four collections of short stories, and three books on writing. Her work has won six Nebulas, two Hugos, a Sturgeon, and the John W. Campbell Memorial Award. Her most recent work is Terran Tomorrow, the conclusion of her Yesterday's Kin series. Like much of her work, this series concerns genetic engineering. Kress's fiction has been translated into Swedish, Danish, French, Italian, German, Spanish, Polish, Croatian, Chinese, Lithuanian, Romanian, Japanese, Korean, Hebrew, Russian, and Klingon, none of which she can read. In addition to writing, Kress often teaches at various venues around the country and abroad, including a visiting lectureship at the University of Leipzig, a 2017 writing class in Beijing, and the annual intensive workshop Tao Toolbox, which she teaches every summer with Walter Jon Williams.
2018 Guest of Honor
Seanan McGuire.
Seanan McGuire is the author of the October Daye urban fantasies, the InCryptid urban fantasies, and several other works both stand-alone and in trilogies or duologies. In case that wasn't enough, she also writes under the pseudonym "Mira Grant." [All three of Mira Grant's Newsflesh novels have been nominated for Hugo Awards, as has "Countdown," the first novella in the Newsflesh universe, and Parasite, the first novel of the Parasitology series.]
Seanan was the winner of the 2010 John W. Campbell Award for Best New Writer, and her novel Feed (as Mira Grant) was named as one of Publishers Weekly's Best Books of 2010. In 2013 she became the first person ever to appear five times on the same Hugo Ballot.
In her spare time, Seanan records CDs of her original filk music. She is also a cartoonist, and draws an irregularly posted autobiographical web comic, "With Friends Like These...", as well as generating a truly ridiculous number of art cards. Surprisingly enough, she finds time to take multi-hour walks, blog regularly, watch a sickening amount of television, maintain her website, and go to pretty much any movie with the words "blood," "night," "terror," or "attack" in the title. Most people believe she doesn't sleep.
2017 Guest of Honor
Jan. 23, 2017: We are deeply saddened to announce that due to the passing of her husband, Mike Briggs, Patricia Briggs will not be able to attend Foolscap 2017. The Foolscap community extends its heartfelt condolences to her and her family.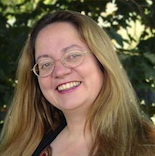 Patricia Briggs is the #1 New York Times bestselling author of the Mercy Thompson series. She lives in Washington State with her husband, children, and a small herd of horses. She has written 17 novels to date. Briggs began her career writing traditional fantasy novels and shifted gears in 2006 to write urban fantasy. Moon Called (2006) is the first book in her #1 New York Times bestselling––and signature series––about Mercy Thompson. Silver Borne (2010) debuted at #1 on the New York Times Hardcover bestsellers list; her latest, Fire Touched (2016) debuted at #2. Briggs also writes the Alpha and Omega series, which are set in the same world as the Mercy Thompson novels. For more information about Patricia Briggs and her marvelous novels, visit the author on the web at www.patriciabriggs.com.
2015 Guest of Honor
Ursula Vernon.
2014 Guests of Honor
Leonard Richardson and Brooks Peck.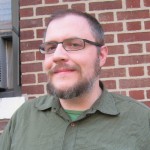 For 15 years Leonard Richardson has been at the intersection of fantastic entertainment and computer programming. It started in 1998 when he created a script to automatically remix the surreal web comic "Pokey the Penguin." He went on to create dozens of online art projects, the screen-scraping library Beautiful Soup, and two technical books on web APIs. His short story "Four Kinds of Cargo" is included in The Year's Best Science Fiction & Fantasy, 2013 (Prime Books). Cory Doctorow calls Leonard's novel Constellation Games (Candlemark & Gleam) "one of the smartest, most passionate, most principled science fiction novels I've ever had the pleasure of reading."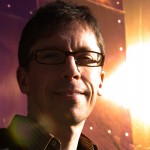 Brooks Peck tells us he has difficulty focusing on his work and is often subject to distraction. A Clarion West graduate, he published stories in anthologies of the Futuristic Cats! variety. He co-founded Science Fiction Weekly, the first professional sf review website, and later served as editor-in-chief. Recently he wrote two monster movies for the Syfy Channel. Today he is a curator at EMP Museum in Seattle where recent exhibitions include Icons of Science Fiction, Battlestar Galactica, and Avatar.
2013 Guests of Honor
Michel Gagné and Nancy Pearl.
2012 Guests of Honor
Joe Haldeman, Gay Haldeman and Frank Cirocco.
2011 Guests of Honor
Ted Chiang and Jim Woodring.
2010 Guests of Honor
Emma Bull, Will Shetterly, Cory Ench and Catska Ench.
2009 Guests of Honor
Peter David and Jeff Sturgeon.
2008 Guests of Honor
Esther Friesner and Michael Kaluta.
2007 Guests of Honor
Charles de Lint and Charles Vess.
2006 Guests of Honor
C. J. Cherryh and Mark Ferrari.
2005 Guests of Honor
Harlan Ellison, Mike Krahulik and Jerry Holkins.
2004 Guests of Honor
George R. R. Martin and Raven Mimura.
2002 Guests of Honor
Sergio Argones and Greg Bear.
2001 Guests of Honor
Robin Hobb, Phil Foglio and Kaja Foglio.
2000 Guests of Honor
Frederik Pohl and Ginjer Buchanan.
1999 Guests of Honor
Octavia Butler and Paul Chadwick.