2015 Guest of Honor
In 2015, we will be joined by Ursula Vernon.
2014 Guests of Honor
In 2014, we were joined by Leonard Richardson and Brooks Peck.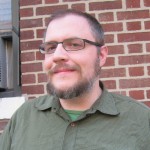 For 15 years Leonard Richardson has been at the intersection of fantastic entertainment and computer programming. It started in 1998 when he created a script to automatically remix the surreal web comic "Pokey the Penguin." He went on to create dozens of online art projects, the screen-scraping library Beautiful Soup, and two technical books on web APIs. His short story "Four Kinds of Cargo" is included in The Year's Best Science Fiction & Fantasy, 2013 (Prime Books). Cory Doctorow calls Leonard's novel Constellation Games (Candlemark & Gleam) "one of the smartest, most passionate, most principled science fiction novels I've ever had the pleasure of reading."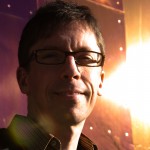 Brooks Peck tells us he has difficulty focusing on his work and is often subject to distraction. A Clarion West graduate, he published stories in anthologies of the Futuristic Cats! variety. He co-founded Science Fiction Weekly, the first professional sf review website, and later served as editor-in-chief. Recently he wrote two monster movies for the Syfy Channel. Today he is a curator at EMP Museum in Seattle where recent exhibitions include Icons of Science Fiction, Battlestar Galactica, and Avatar.
2013 Guests of Honor
In 2013, our guests of honor were Michel Gagné and Nancy Pearl